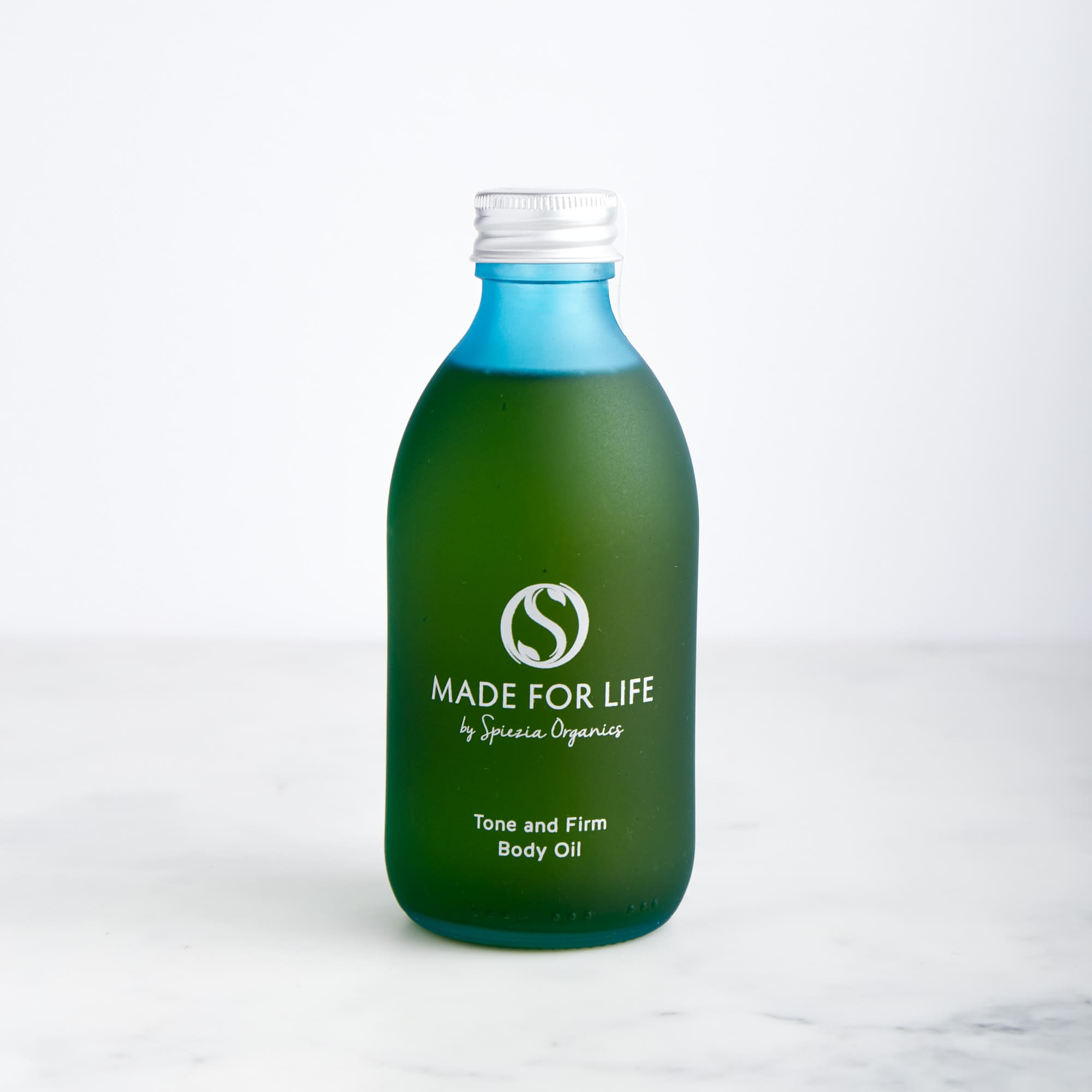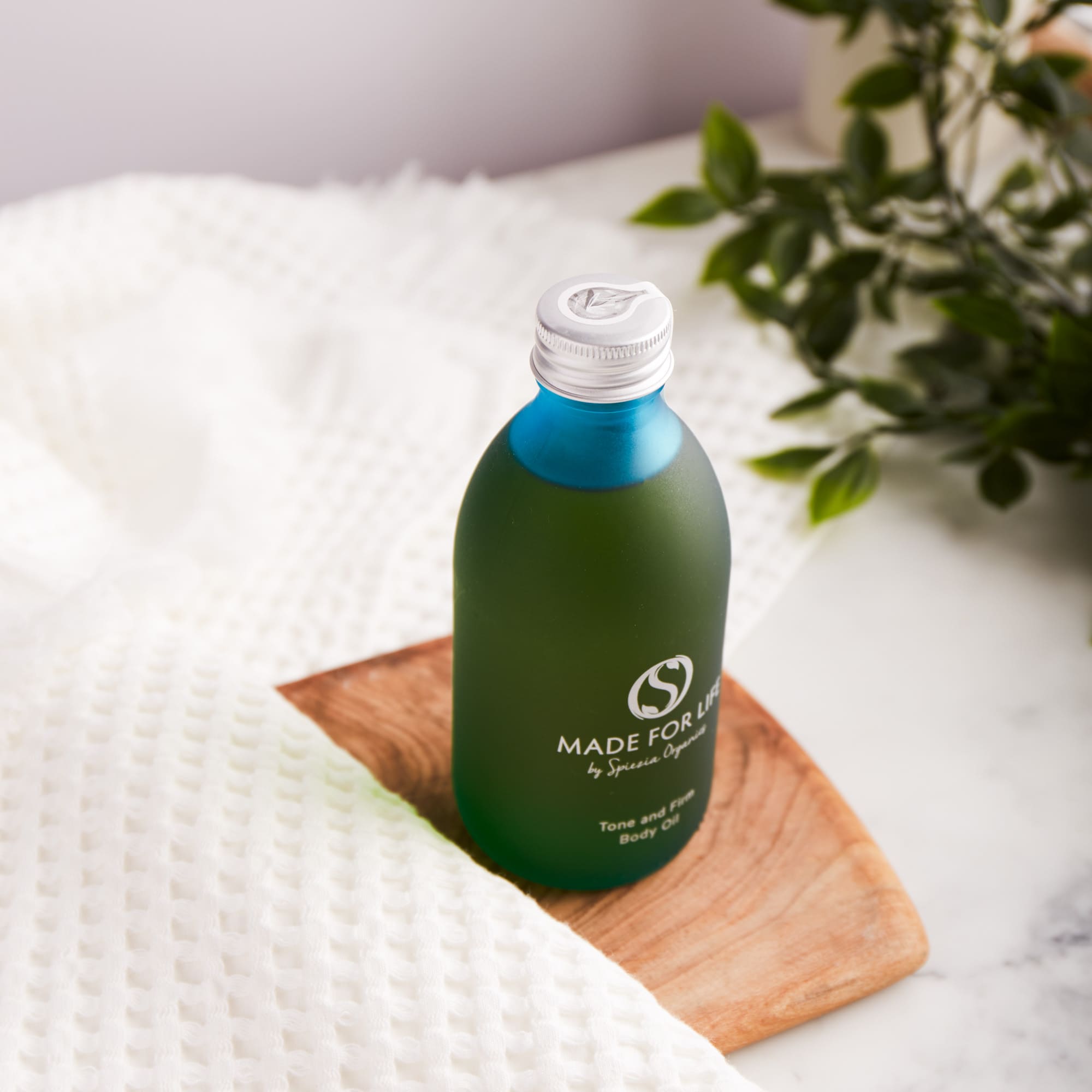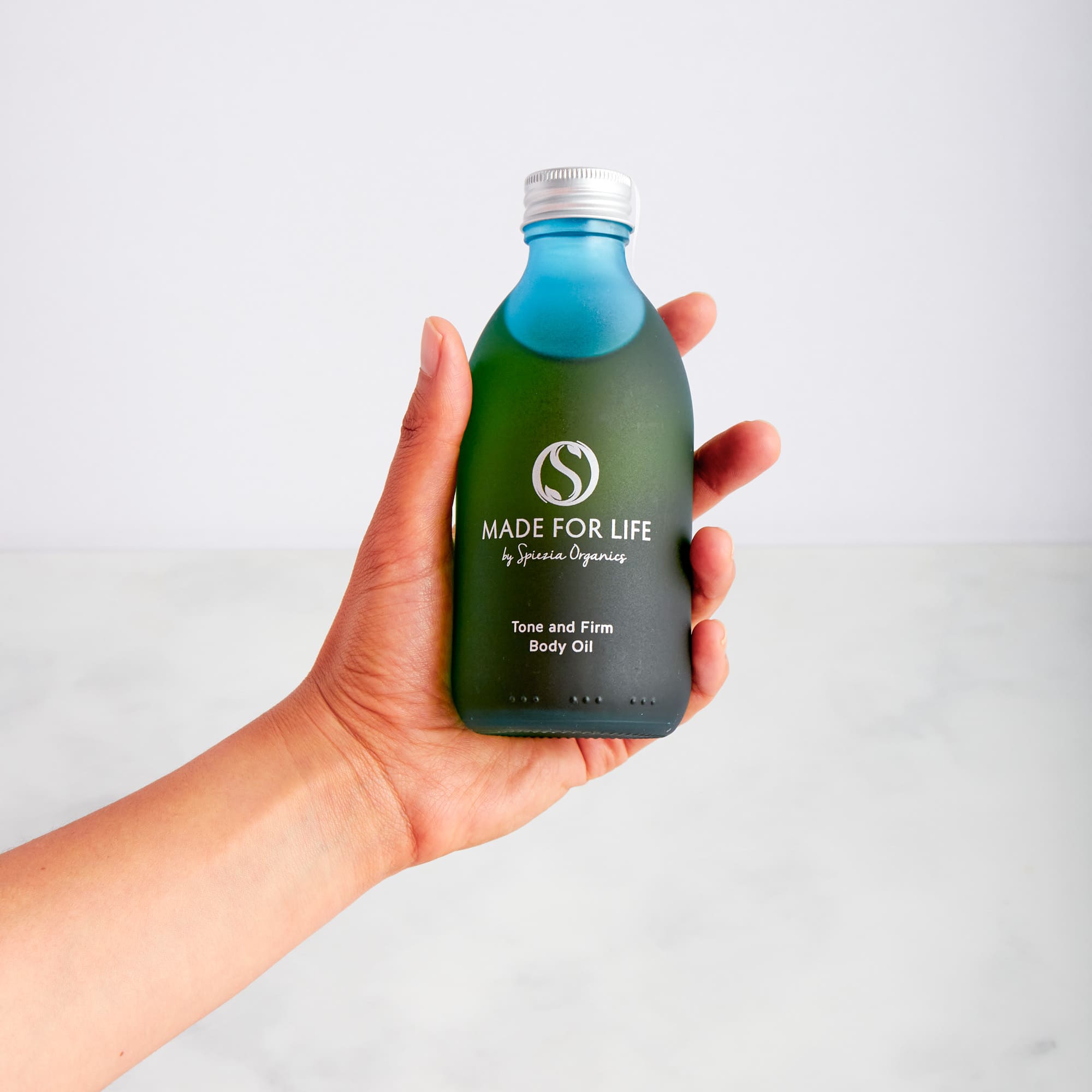 Tone and Firm Body Oil 250ml
---
Powerful detoxifying ingredients
FREE Delivery when you spend over £50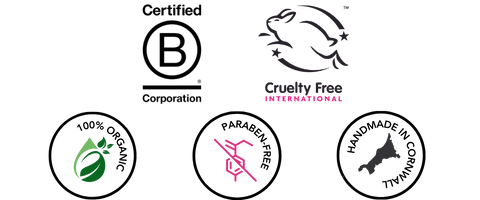 SKIN TYPE: All, Sensitive & Sensitised
Experience a luxurious treat with our Tone and Firm Body Oil!
This all-natural, organic blend of green tea, rosemary, mint, and lemon oils work together to reduce cellulite, stimulate circulation and nourish the skin.
Save 30% with the refill bottle and reduce your packaging - perfect for home and salon use!
Enjoy a soothing massage and enjoy radiant skin.
FREE UK shipping on orders over £50

Standard Tracked Shipping (2-5 Business Days) £6.00

Express Tracked Shipping (1-3 Business Days) £7.50
We are proud that all of our deliveries use DPD via one of their all-electric delivery vehicles.
Returns
For opened products that are faulty, we are happy to provide replacement products to the value of the original product. If your product is damaged, faulty or incorrect please contact us within 48 hours of delivery.

Full RETURNS POLICY - Click here
Step 1: Application
After bathing or cleansing, gently pat your skin dry to prepare for the body oil application.
Step 2: Warm and Inhale
Dispense a small amount of the Tone and Firm Body Oil into your palm. Rub your palms together to warm the oil. Cup your hands over your nose and mouth, taking a moment to inhale the invigorating aroma deeply.
Step 3: Massage with Circular Movements
Starting from your ankles, use gentle circular motions to massage the body oil onto your skin. Gradually work your way upward, towards your thighs and hips. This light massage not only promotes circulation but also allows the body oil to be absorbed effectively.
Step 4: Target Areas
Focus on areas that may need extra attention, such as thighs, hips, buttocks, and abdomen. Massage with slightly firmer pressure to encourage skin tone and firmness.
Step 5: Relax and Enjoy
Take a moment to let the body oil absorb into your skin. Feel the nourishing embrace of nature's goodness.
Step 6: Daily or Nightly Use
The Tone and Firm Body Oil can be used daily for overall skin revitalisation. For an intensified treatment, apply before bedtime and allow the oil's benefits to work overnight.
Indulge in the transformative journey of skincare, as you infuse your skin with the revitalising essence of the Tone and Firm Body Oil.
Experience the natural radiance and vibrancy that come from embracing organic botanicals in your daily routine.
Sesame Seed Oil: Rich in nutrients and antioxidants, promoting skin health.
Olive Fruit Oil: Deeply nourishes and moisturises for a soft, supple feel.
Jojoba Seed Oil: Balances sebum production, leaving skin refreshed.
Apricot Kernel Oil: Emollient properties to maintain skin's natural moisture.
Wheat Germ Oil: Nourishes and rejuvenates for a youthful appearance.
Meadowsweet Leaf Extract: Gently tones and soothes the skin.
Green Tea Leaf Extract: Antioxidant-rich, protecting against environmental stressors.
Rosemary Leaf Extract: Enhances skin texture and overall complexion.
Cinnamon Leaf Extract: Supports skin vitality with its natural benefits.
Lavender Flower Extract: Soothes and calms the skin, promoting relaxation.
Lavender Flower Oil: Infuses a gentle fragrance while nurturing the skin.
Lemon Peel Oil: Brightens and revitalises with its refreshing aroma.
Thyme Leaf Extract: Provides natural antioxidant and purifying benefits.
Rosemary Leaf Oil: Uplifts the senses while promoting skin rejuvenation.
German Chamomile Flower Oil: Offers soothing properties for calm, balanced skin.
Peppermint Oil: Invigorates and refreshes with a cooling sensation.
*Citral
*Citronellol
*Limonene
*Naturally occuring in 100% organic essential oils.
Share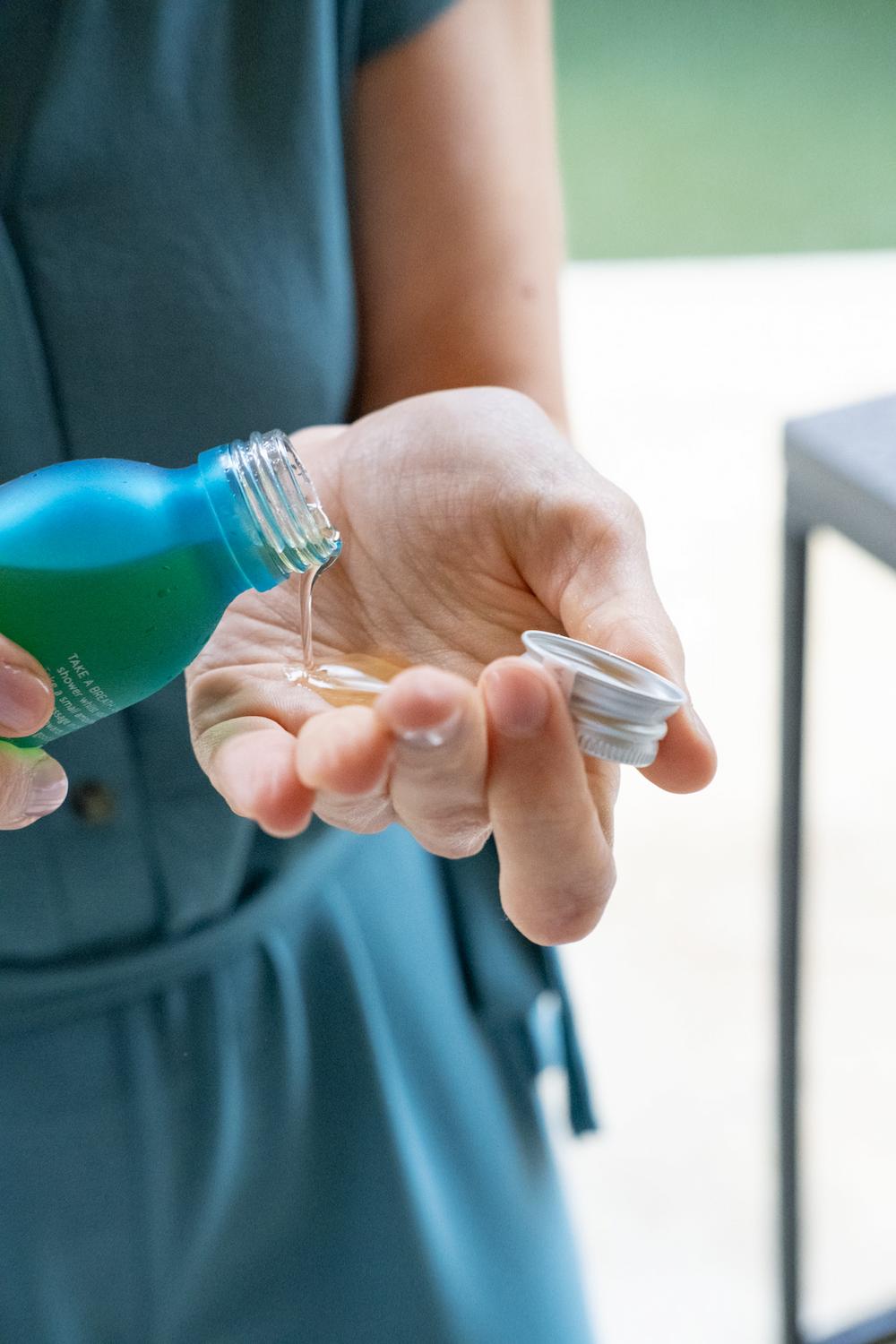 SEAMLESS APPLICATION
Just a Few Drops for Organic Nourishment
Crafted to perfection, our blend of organic botanicals brings forth the nourishment your skin craves.
100% ORGANIC BOTANICALS
Embrace Toned and Firm Skin
Thoughtfully formulated with the essence of nature's finest ingredients to enhance and uplift your skin.



Sesame Seed Oil: Nourishes and revitalizes, promoting a toned and radiant appearance.
Olive Fruit Oil: Delivers deep hydration, leaving your skin supple and firm.
Jojoba Seed Oil: Balances and nurtures, revealing a naturally smooth texture.
Apricot Kernel Oil: Renews and rejuvenates, restoring your skin's youthful vitality.
Elevate your skincare ritual and bask in the harmonious blend of these organic treasures. Let your skin revel in the confidence and grace of natural radiance.
Total 5 star reviews: 1
Total 4 star reviews: 0
Total 3 star reviews: 0
Total 2 star reviews: 0
Total 1 star reviews: 0
100%
would recommend these products
Your Summer Essential: For Firmer Looking Skin.

Excellent Product, I use it daily with an exfoliating mit, best I have tried for cellulite and firming skin, a must for getting ready for summer

Diane D.

Verified Buyer

Reviewing

Tone and Firm Body Oil 100ml
Press left and right arrows to navigate.
Viewing Slides 1 to 2 of 1
Reviews Loaded
Reviews Added
100% ORGANIC SKINCARE
Complete your routine
your top questions
There are many oils that can be used for toning, but some of the most effective include:

Rosehip oil: Rosehip oil is a natural source of vitamin C, which helps to brighten and firm the skin. It also contains fatty acids that help to hydrate and nourish the skin.

Argan oil:Argan oil is rich in antioxidants and fatty acids that help to improve the elasticity of the skin. It also helps to reduce the appearance of wrinkles and fine lines.

Jojoba oil:Jojoba oil is a natural emollient that helps to keep the skin hydrated and plump. It also has anti-inflammatory properties that can help to reduce the appearance of cellulite. This is one of the many organic ingredients in our Tone and FIrm Body Oil.
Active nutrients penetrate the skin and work with massage as a great cellulite buster and to stimulate circulation, encourage the elimination of toxins from fatty tissue and tone your skin.