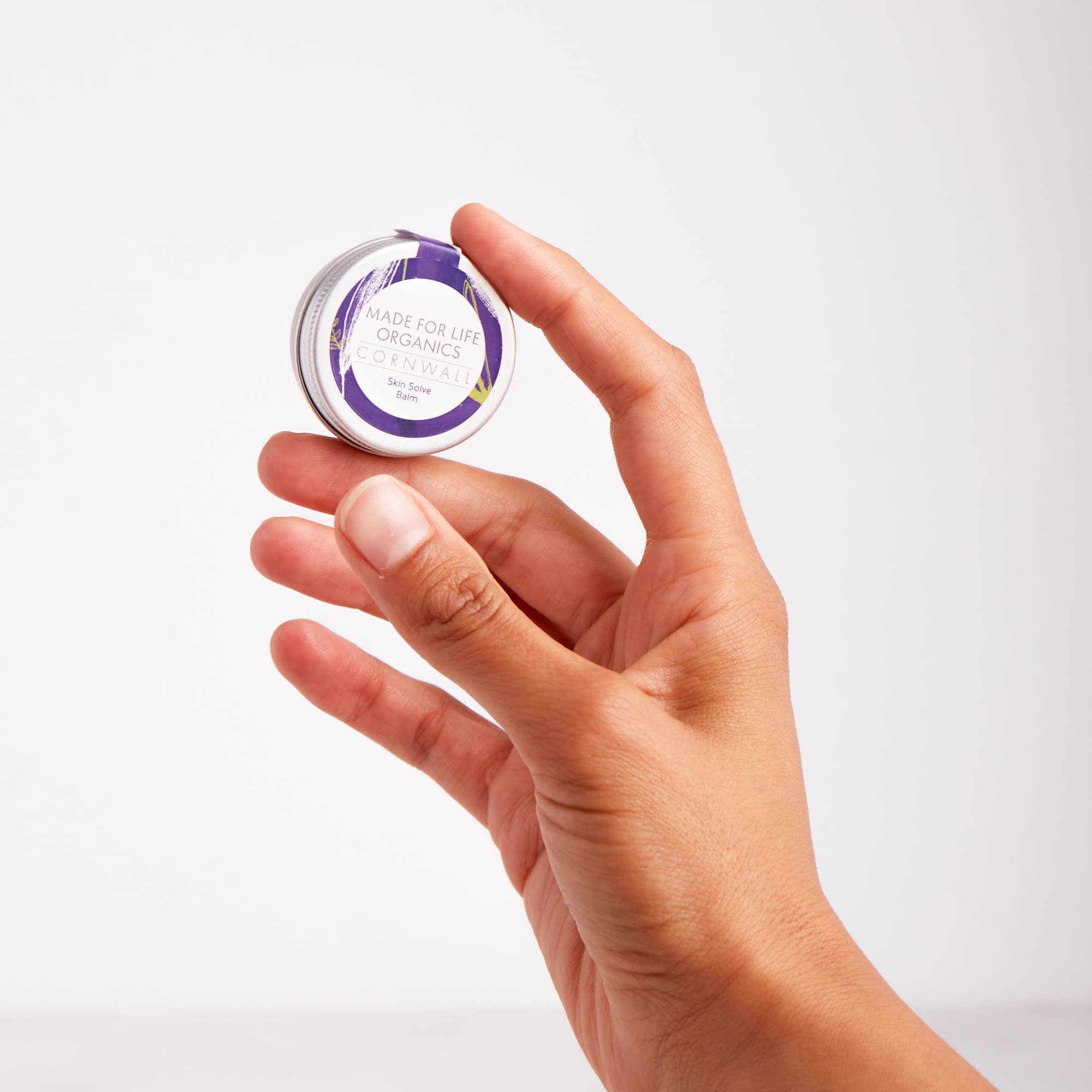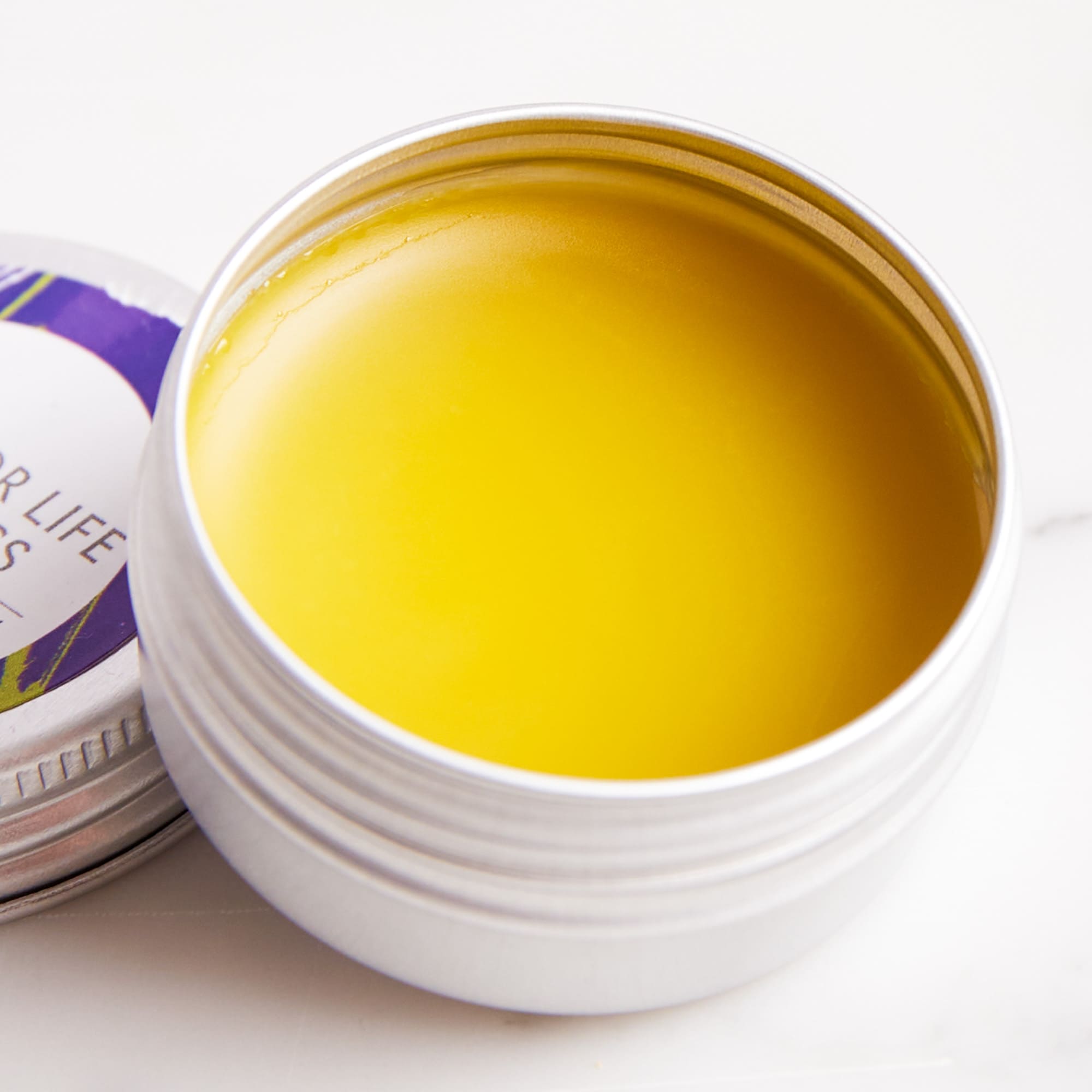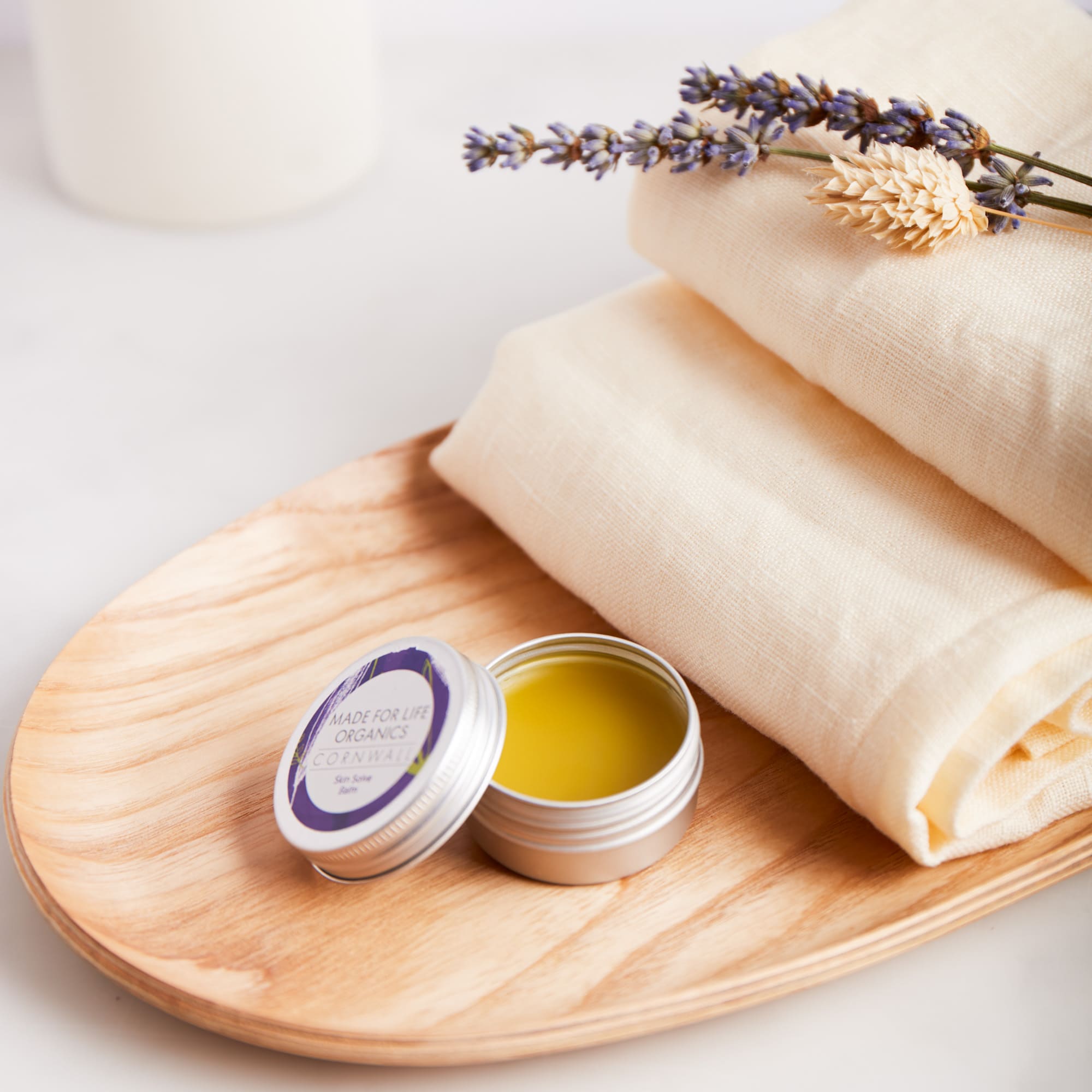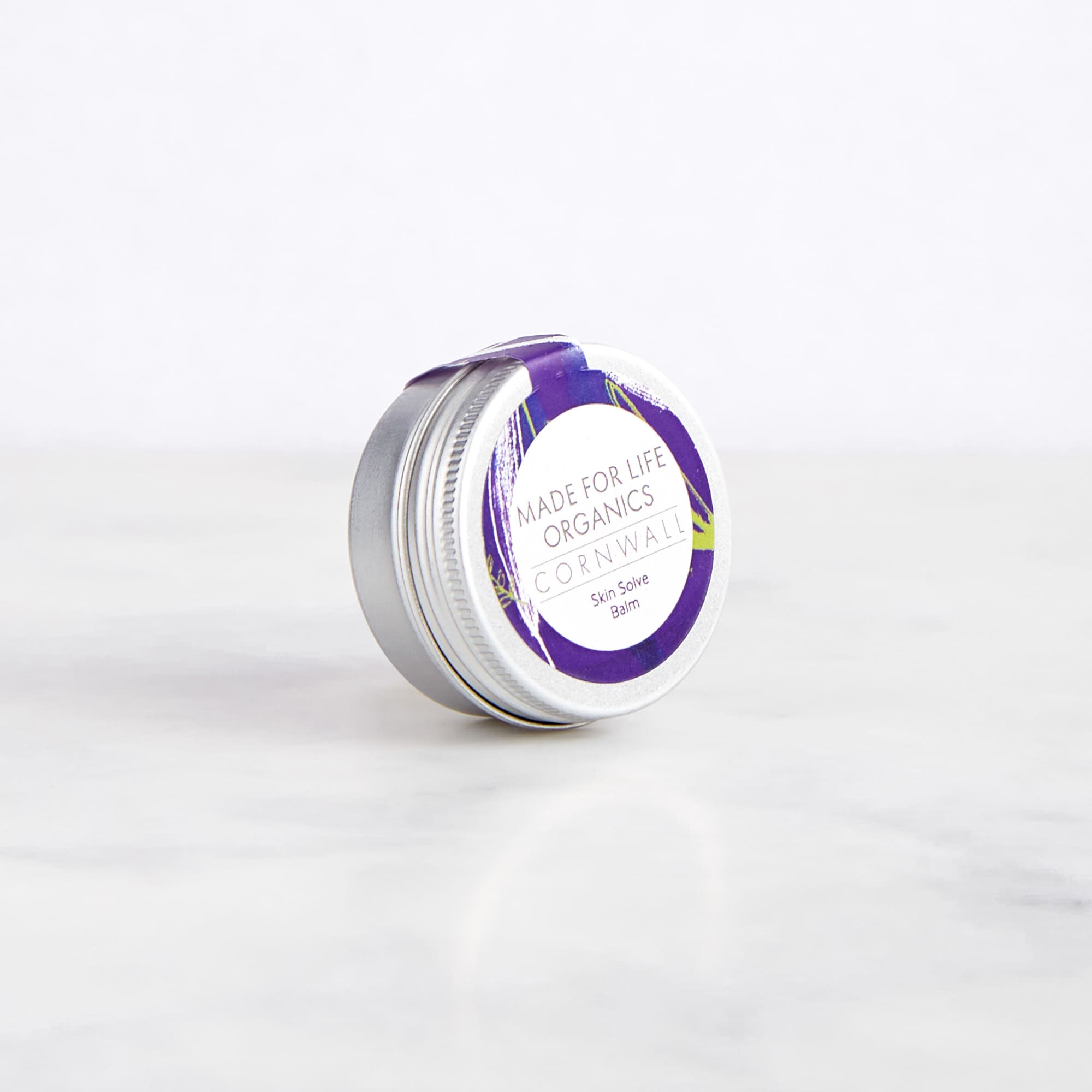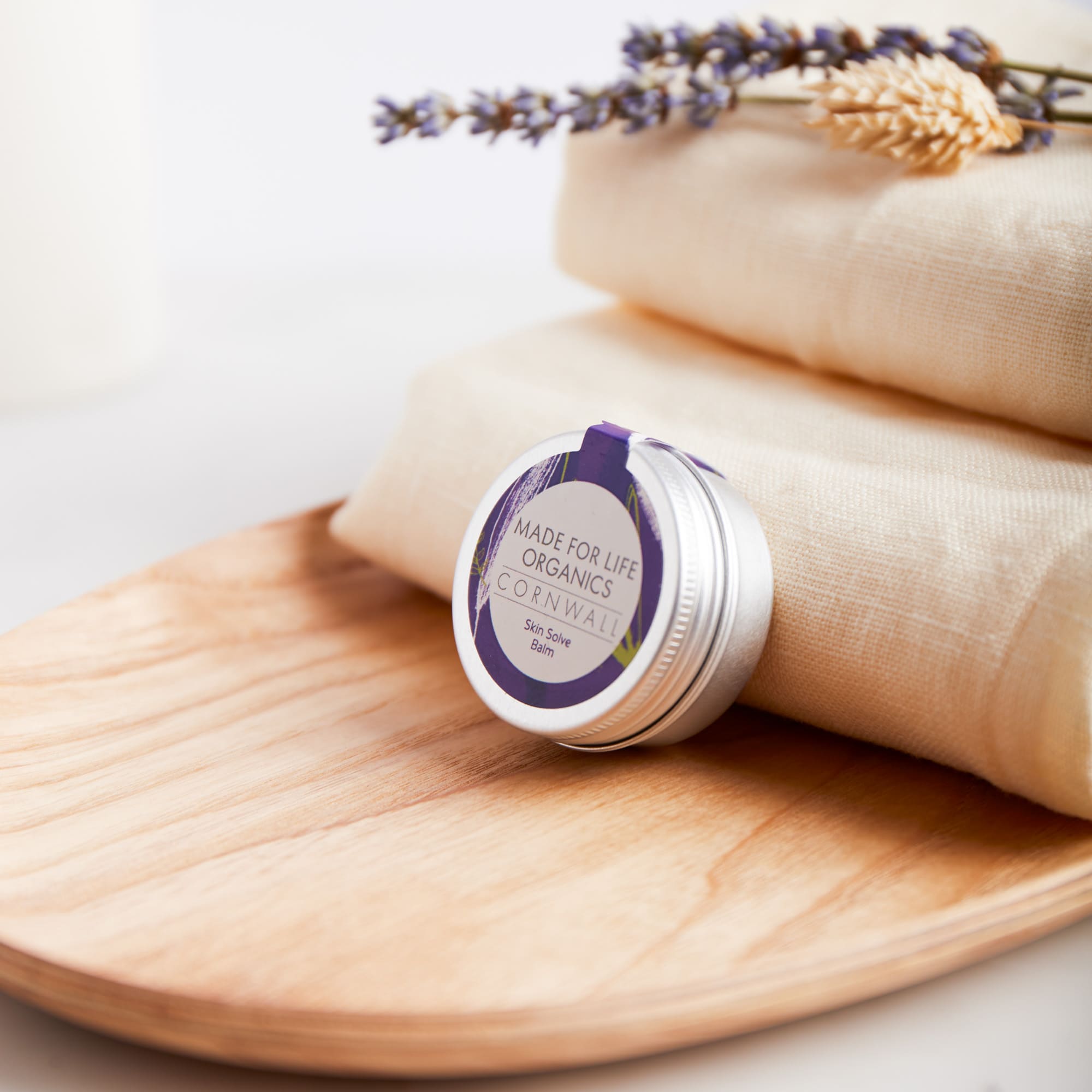 Skin Solve Balm (Calendula) 10ml
---
Organic first aid for skin
FREE Delivery when you spend over £50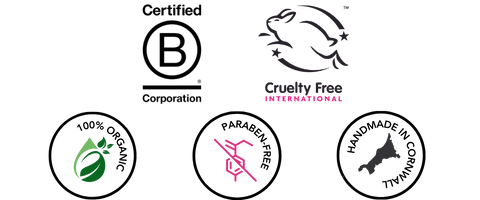 SKIN TYPE: All, Sensitive & Sensitised
Take nature's healing wonders with you wherever you go with this handy travel size 10ml product.
From bites, grazes and sunburn to eczema or nappy rash, this organic balm is a "miracle in a jar" that naturally soothes and moisturises sensitive and problem skin. You can even use this as a moisturiser or face mask.
Skin Solve Balm, in its convenient 10ml travel size, fits in your bag for on-the-go relief.
Enjoy the calming aromas and relief that Skin Solve Balm brings.
FREE UK shipping on orders over £50

Standard Tracked Shipping (2-5 Business Days) £6.00

Express Tracked Shipping (1-3 Business Days) £7.50
We are proud that all of our deliveries use DPD via one of their all-electric delivery vehicles.
Returns
For opened products that are faulty, we are happy to provide replacement products to the value of the original product. If your product is damaged, faulty or incorrect please contact us within 48 hours of delivery.

Full RETURNS POLICY - Click here
Application:
Massage the balm into the affected area using light circular movements taking care with broken skin.
Repeat the application as often as you feel the need until the are is healed.
Warm and Inhale:
Before applying the balm, warm it between your hands for a few seconds. This will help to activate the essential oils and make the balm more effective.
As you massage the balm into your skin, take a few deep breaths and inhale the essential oils. This will help to relax you and promote healing.
Olive: Olea Europaea Fruit Oil
Beeswax: Cera Alba
Lavender: Lavandula angustifolia essential oil
Wheat: Triticum vulgare germ Oil
Roman Chamomile: Anthemis Nobilis Flower Oil
Cinnamon: Cinnamomum Zeylanicum Leaf Oil
German Chamomile: Chamomilla Recutita Flower Oil
Arnica: Arnica Montana Flower Extract
Hyssop: Hyssopus Officinalis Leaf Extract
St John's Wort: Hypericum Perforatum Extract
Lavender: Lavandula Angustifolia Flower Extract


*Linalool
*Naturally occurring in 100% organic essential oil.
Share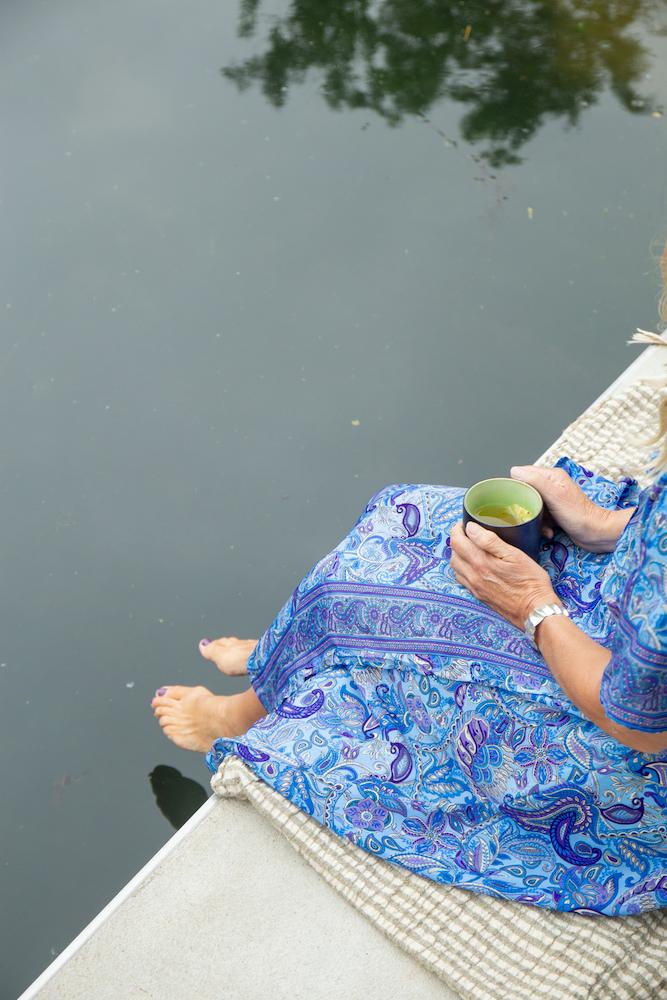 EFFORTLESSLY SOOTHING CARE
A Drop Unveils Abundant Comfort
Let nature's wisdom enfold you, soothing your legs and feet with the grace of organic care.
100% ORGANIC BOTANICALS
Harmonizing Wellness From Root to Sole
Revel in the revitalizing touch of our Soothe & Smooth Leg and Foot Balm, a harmonious blend of organic goodness meticulously chosen to deliver nature's finest benefits.

Ylang Ylang Flower Oil: Uplifts and soothes, infusing relaxation into your legs and feet.
Beeswax: Seals in moisture, cocooning your skin in lasting hydration.
Eucalyptus Leaf Oil: Invigorates and refreshes, providing relief and renewed energy.
Comfrey Leaf Extract: Nurtures and comforts, embracing your skin's well-being.
Experience the transformation as your legs and feet are caressed by the tender care of these coveted botanical ingredients. Dive into the luxury of ultimate revitalization, knowing you've chosen the best for your skin and the environment.
100% ORGANIC SKINCARE
Complete your routine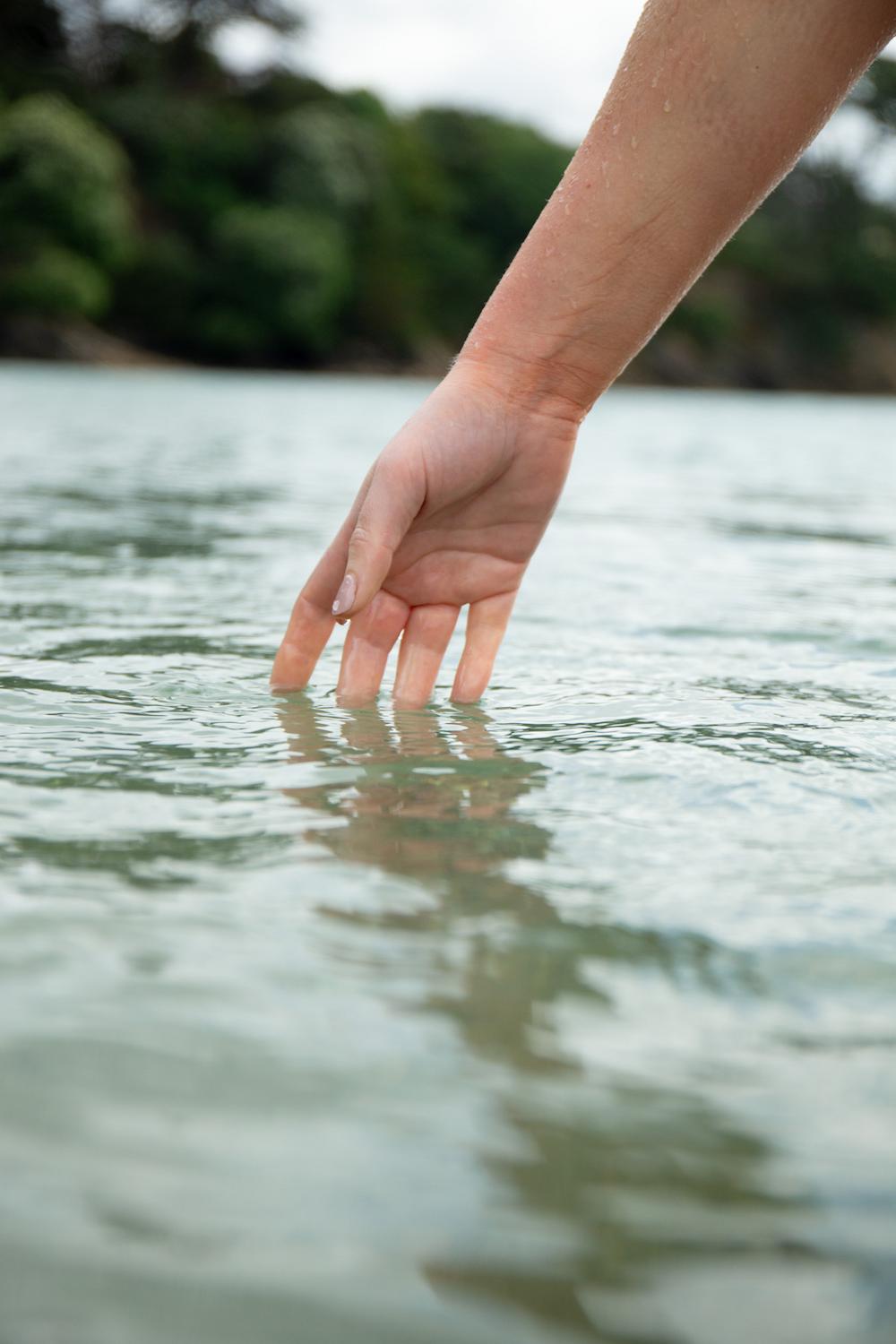 your top questions
The key aspect that sets balms apart from creams is their pure oil composition which means that they contain no water.
Creams by comparison are mainly water which means that they need chemical preservatives to stop them going bad. These chemicals can cause skin irritations, especially for sensitive or sensitised skin.
We never use water or preservatives in any of our balms so that they are natural and kind for your skin and the environment.
Our Soothing Bruise Balm is a natural way to relieve the pain, swelling, and discoloration of bruises.
Made with arnica, lavender, and chamomile, this balm is gentle on the skin and helps to speed up the healing process.
Apply a small amount to the affected area several times a day, or as needed.
For best results, use as soon as possible after the injury.
Yes, our Soothing Bruise Balm is made with natural ingredients, including arnica, lavender, and chamomile.
We believe in using the power of nature to help you heal, and our bruise balm is a great example of that.
We also use vegan and cruelty-free ingredients, so you can be sure that our products are kind to you and the planet.
If you have any questions about our ingredients, please don't hesitate to contact us.