Refresh & Clarify Facial Toner 10ml
Organic Facial Toner 10ml (Travel Size)
---
Hydrates and revitalises skin
Refreshes, soothes and brightens
Non-drying alcohol-free formula
Preps skin for the next step in your routine
FREE Delivery when you spend over £50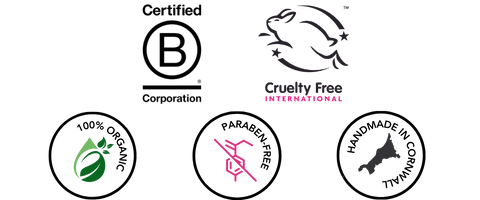 SKIN TYPE: All, Sensitive & Sensitised
Experience the perfect combination of soothing hydration and toning power with our Refresh & Clarify Facial Toner.
Brimming with floral extracts, our travel-sized 10ml toner is alcohol-free and designed to leave your skin feeling refreshed and toned.
Sage reduces pore size, lavender soothes, and chamomile restores balance - perfect for your daily facial care routine. Refresh your skin and senses now.
FREE UK shipping on orders over £50

Standard Tracked Shipping (2-5 Business Days) £6.00

Express Tracked Shipping (1-3 Business Days) £7.50
We are proud that all of our deliveries use DPD via one of their all-electric delivery vehicles.
Returns
For opened products that are faulty, we are happy to provide replacement products to the value of the original product. If your product is damaged, faulty or incorrect please contact us within 48 hours of delivery.

Full RETURNS POLICY - Click here
Wash your face with a gentle cleanser.
Apply a generous amount of toner to a cotton pad.
Gently sweep the cotton pad across your face, avoiding the eye area.
Let the toner dry completely before applying moisturiser.
Here are some additional tips for using the toner:
You can use the toner twice a day, once in the morning and once at night.

If you have sensitive skin, you may want to dilute the toner with a little bit of water.

If you are using other skincare products, wait for the toner to dry completely before applying them.
The Refresh and Clarify Facial Toner is a great way to remove any leftover dirt, oil, or makeup from your face.
It also helps to balance the pH of your skin and prep it for further skincare steps.
Lavender: Lavandula Angustifolia flower water
Roman Chamomile: Anthemis Nobilis flower water
Sage: Salvia Officinalis water
Lavender: Lavandula Angustifolia flower oil
Chamomile: Anthemis Nobilis flower oil
Sage: Salvia Officinalis leaf oil
*linalool

*Naturally occurring in 100% organic essential oils

All ingredients 100% organic

(Note: "Water cannot be certified organic")


Share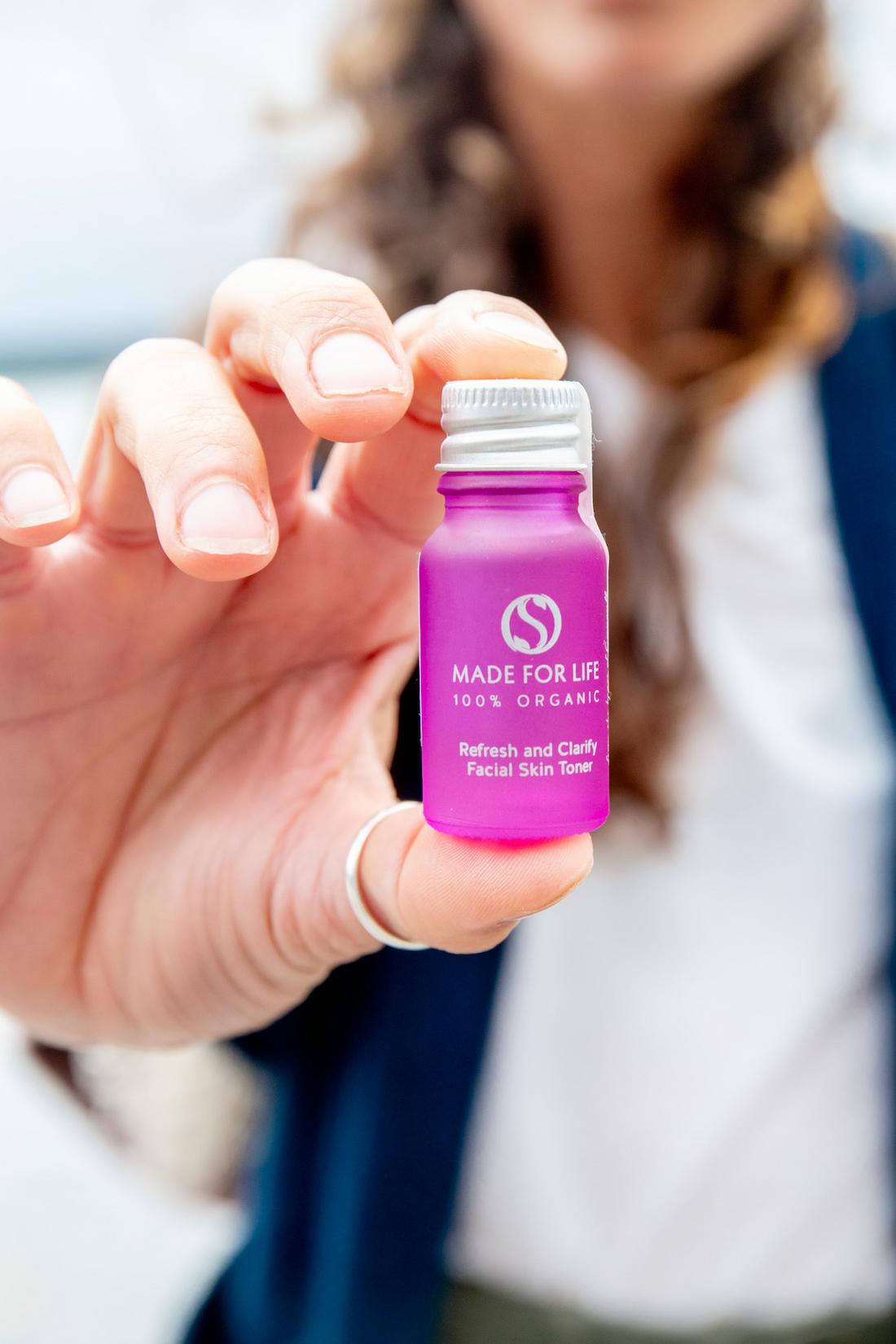 unlock mother nature
Say goodbye to dull skin
Embrace the power of centuries-old plant extracts that'll make your skin radiant and comforted. Best of all, it's effective without any of the harmful stuff.
100% ORGANIC BOTANICALS
Made with natural botanicals
Unleash the Power of Nature for Clear, Refreshed, and Balanced Skin.
Sage: Revives your skin and your senses while helping to reduce pore size
Lavender: Soothes and tones while helping to reduce inflammation
Chamomile: Restores your skin's natural balance and helps to calm redness and irritation.


Say goodbye to harsh chemicals and artificial fragrances. Our natural and organic Refresh and Clarify Facial Toner is formulated with gentle, plant-based ingredients that are safe and effective for all skin types.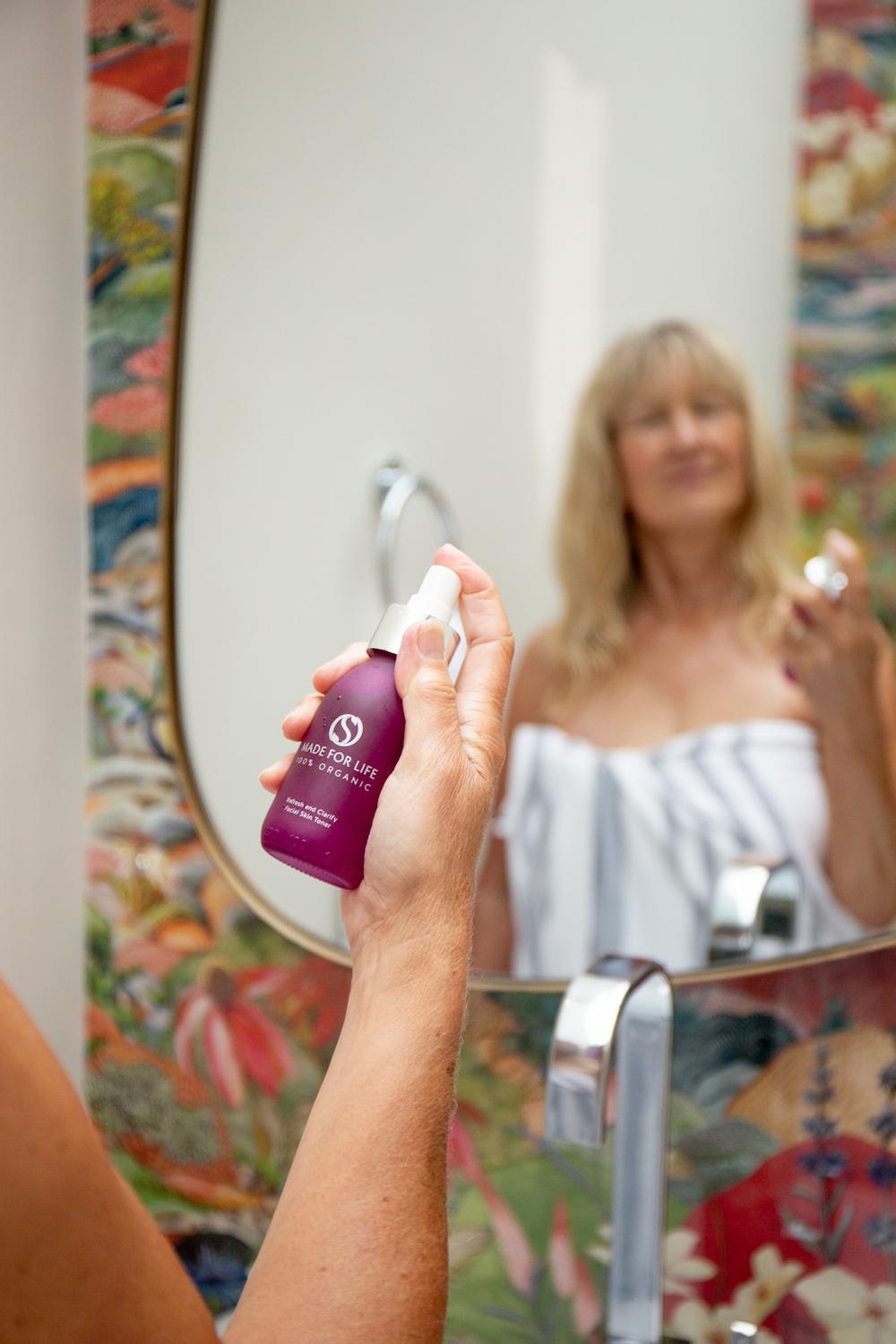 100% ORGANIC SKINCARE
Complete your routine
your top questions
Organic toners are a great way to refresh and balance your skin.
They can help to remove any last traces of dirt, makeup, and oil, and they can also help to restore your skin's natural pH balance.

Our Organic toners are made with high-quality, natural botanical extracts and essential oils.
These ingredients can help to soothe and hydrate your skin, and they can also help to reduce the appearance of blemishes and wrinkles.

The toner prepares your skin for our other skincare products.
If you're looking for a natural and effective way to improve your skin's health, organic toner is a great option.
By using Made For Life Organics Toner, be assured you are getting high-quality ingredients that are fabulous for your skin.
Toner is not essential for everyone, but it can be a helpful addition to your skincare routine if you have specific skin concerns.
Toners can help to remove any leftover dirt, oil, or makeup from your face, and they can also help to balance the pH of your skin.
This can be especially helpful if you have oily or acne-prone skin.
Our toners contain ingredients that can help to improve skin clarity and radiance.
Cleanse your face with our gentle facial cleanser.

Shake the toner bottle to evenly distribute the ingredients.

Apply the toner to your face with a cotton pad or spray it directly onto your skin.

Focus on problem areas if needed.

Allow the toner to absorb for a few minutes.

Follow with one of our organic moisturising balms.
You can use your toner twice a day, in the morning and evening. The frequency of use may vary depending on your skin type and the specific toner you are using.