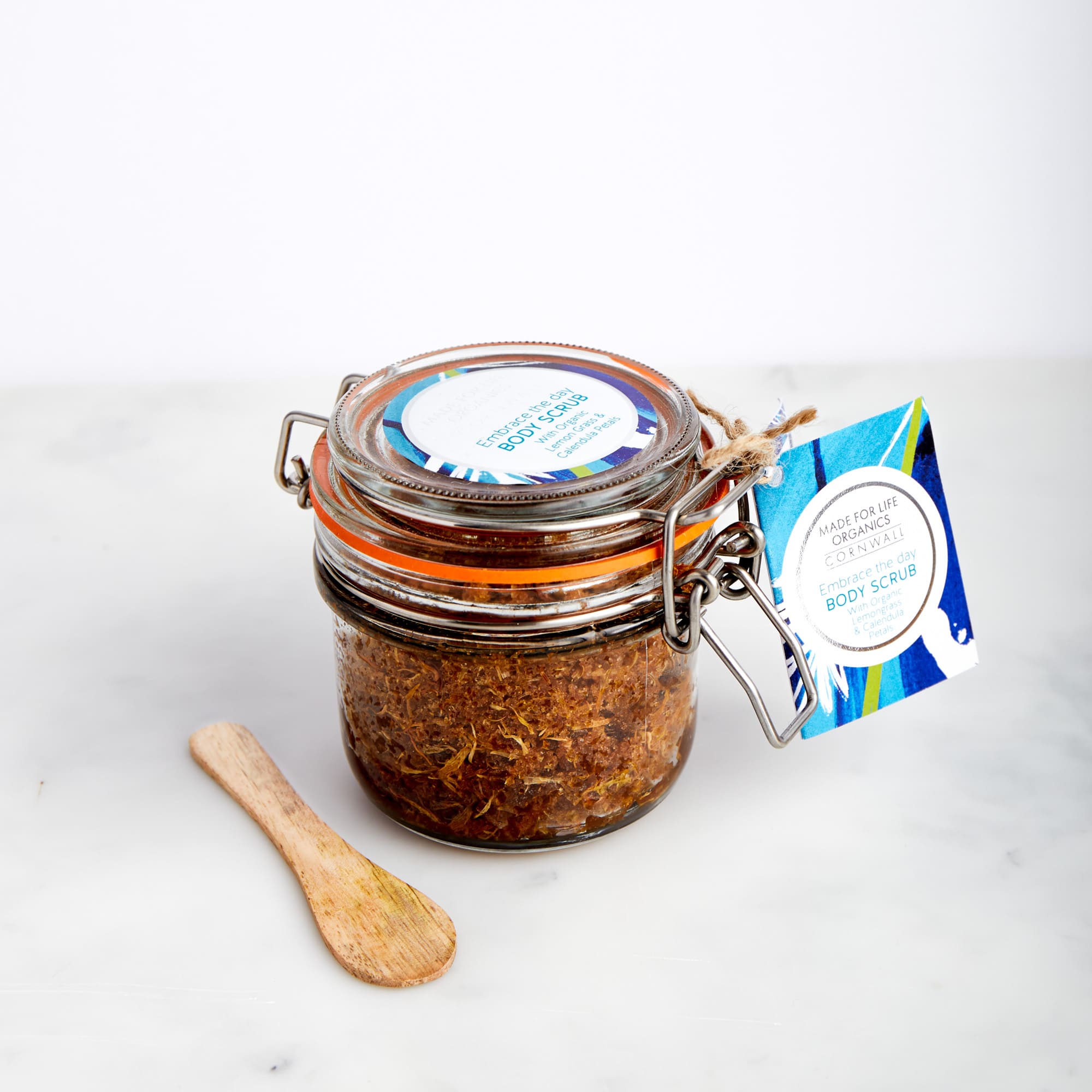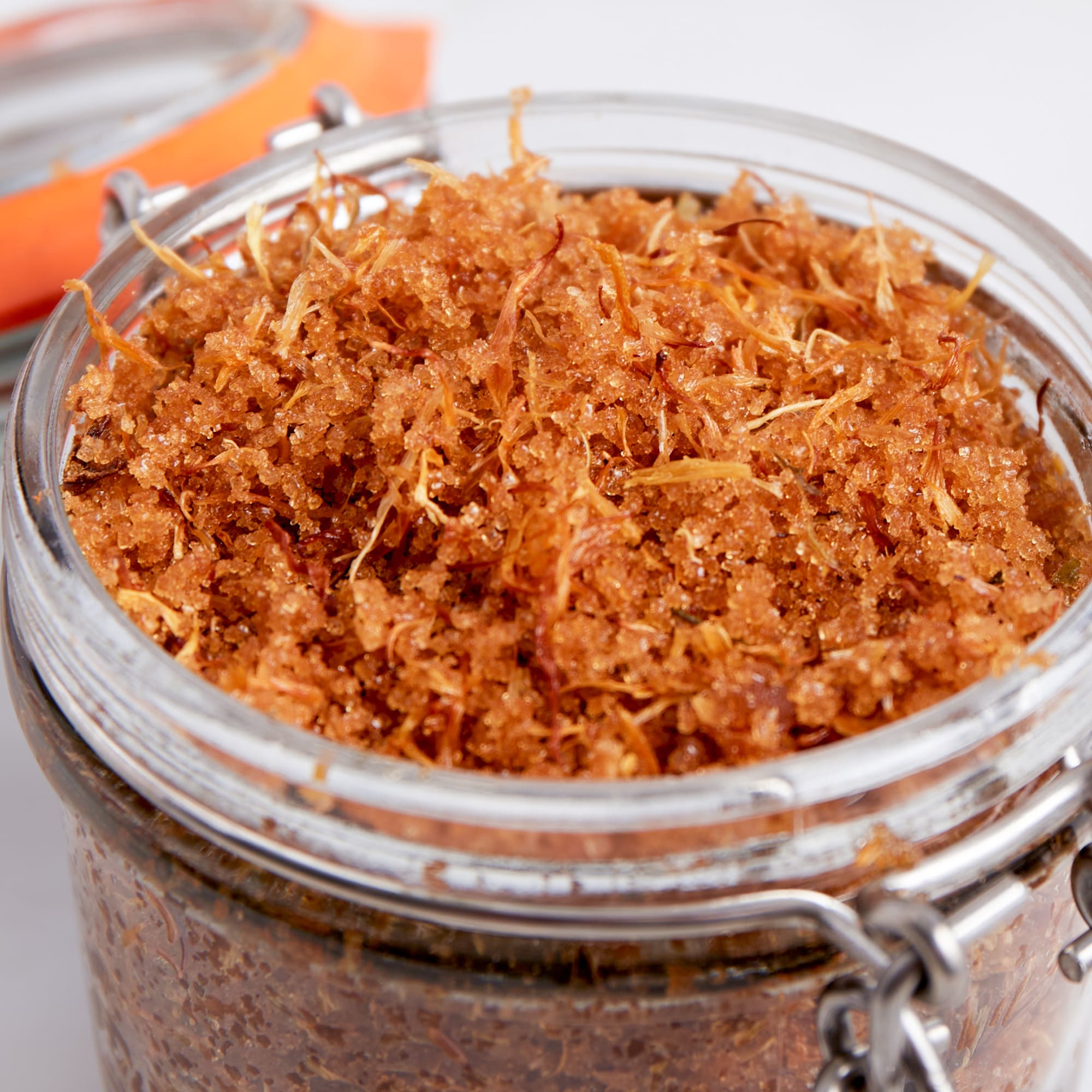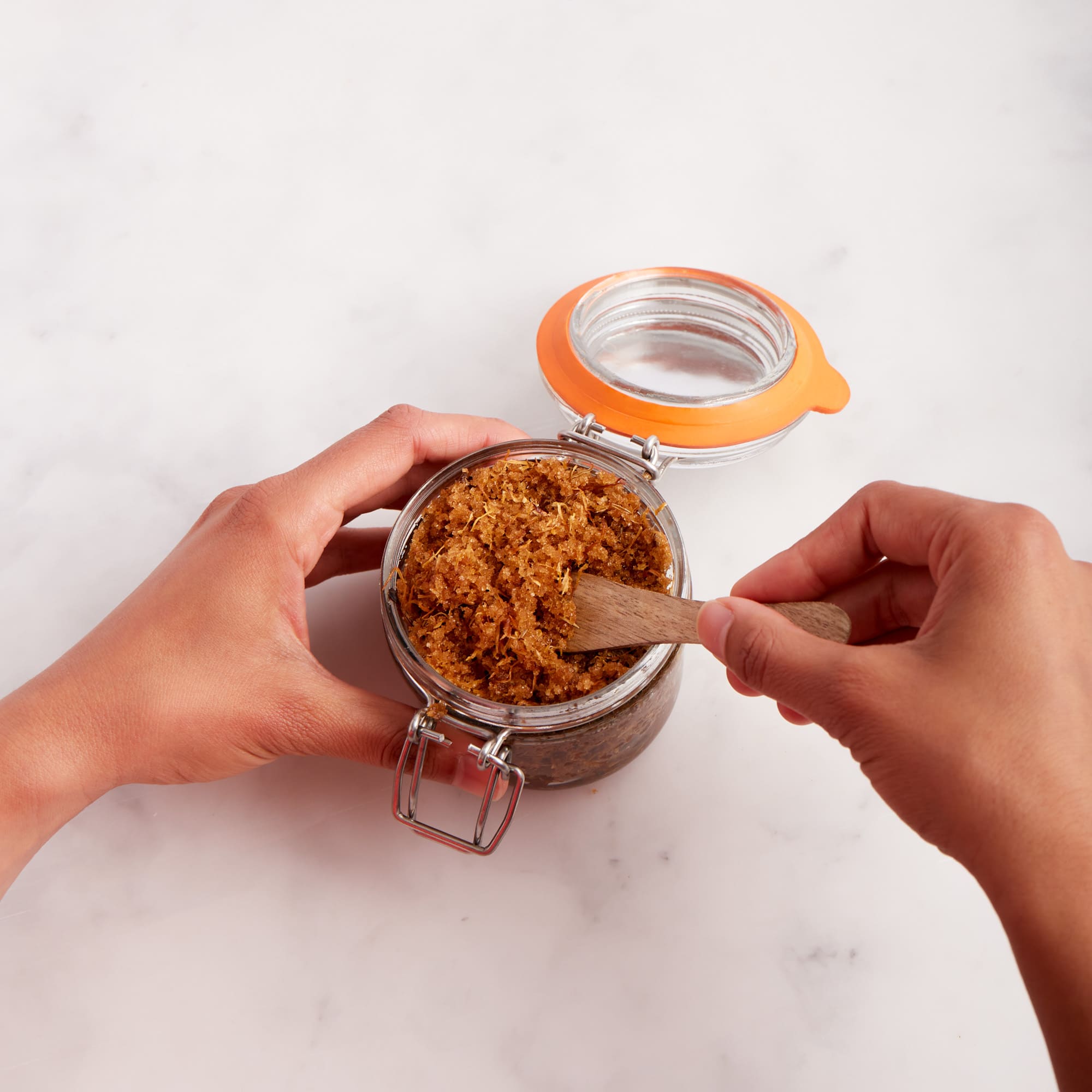 Embrace the Day Body Scrub 200grm
Luxurious Organic Body Scrub
---
Remove dry skin and moisturise
Invigorate blood circulation
Get super soft and radiant skin
Uplifting scent of lemongrass
FREE Delivery when you spend over £50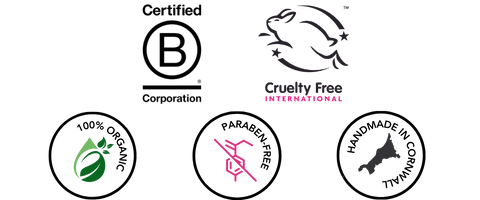 SKIN TYPE: All, Sensitive & Sensitised
Embrace the Day Body Scrub is a self-care treat for your skin and senses.
With a combination of two grades of organic sugar, calendula petals, and oils including wheatgerm and lemongrass, it's designed to transform dry skin and make it soft and radiant.
The lemongrass fragrance creates a positive uplifting scent as you scrub, especially if you use it in a warm bath or shower.
Invigorate your circulation, moisturise your skin and create an uplifting routine.

Use it once a week for smooth and healthy skin, you'll wonder why you hadn't tried it sooner.
FREE UK shipping on orders over £50

Standard Tracked Shipping (2-5 Business Days) £6.00

Express Tracked Shipping (1-3 Business Days) £7.50
We are proud that all of our deliveries use DPD via one of their all-electric delivery vehicles.
Returns
For opened products that are faulty, we are happy to provide replacement products to the value of the original product. If your product is damaged, faulty or incorrect please contact us within 48 hours of delivery.

Full RETURNS POLICY - Click here
Step 1: Prepare Your Skin
Start by dampening your skin with warm water in the shower or bath. This helps to soften the skin and prepare it for exfoliation.
Step 2: Open the Jar
Open the lid of the Embrace the Day Body Scrub jar and take in the delightful aromas of the natural and organic ingredients.
Step 3: Scoop the Scrub
Using your fingers or a clean scoop, take a generous amount of the scrub from the jar. Gently rub the scrub between your palms to ensure an even distribution of the exfoliating particles and the nourishing oils.
Step 4: Apply the Scrub
Massage the scrub onto your damp skin using circular motions. Begin with a small area, such as your arms or legs, and gradually work your way up. Pay special attention to rough or dry areas, such as elbows, knees, and heels.
Step 5: Exfoliate
Continue to massage the scrub onto your skin using gentle pressure. The natural exfoliating particles will help slough away dead skin cells, revealing the smoother, healthier skin underneath.
Step 6: Enjoy the Aromatherapy
As you exfoliate, take a moment to inhale the calming and rejuvenating aromas of the essential oils in the scrub. Let the fragrances uplift your senses and promote relaxation.
Step 7: Rinse Off
Once you've exfoliated your entire body, rinse off the scrub thoroughly with warm water. Use your hands or a soft washcloth to make sure all the exfoliating particles are removed.
Step 8: Pat Dry
Gently pat your skin dry with a clean towel. Avoid rubbing your skin vigorously to prevent any irritation.
Step 9: Moisturise
After exfoliating, your skin is ready to absorb moisture more effectively. Apply your favorite body moisturiser or our Restorative Body Balm to lock in hydration and leave your skin feeling soft and supple.
Step 10: Embrace the Day
Now that you've treated your skin to the Embrace the Day Body Scrub, step out of your shower or bath with a renewed sense of energy and well-being. Your skin will feel revitalised, and you'll be ready to take on the day with a refreshed and radiant glow.
Golden Castor Sugar: Sucrose
Dark Brown Sugar: Sucrose
Sunflower Seed Oil: Helianthis Annus
Coconut Oil: Cocos Nucifera
Olive Fruit Oil: Olea Europaea
Calendula/Marigold Flower: Calendula Officinalis
Lemongrass Leaf Oil: Cymbopogan Citratus
Cocoa Butter: Theobroma Cacao Seed butter
Wheat Germ Oil: Triticum Vulgare
Calendula Maceration
*Citral, Limonene
*Naturally occurring in 100% organic essential oils
Share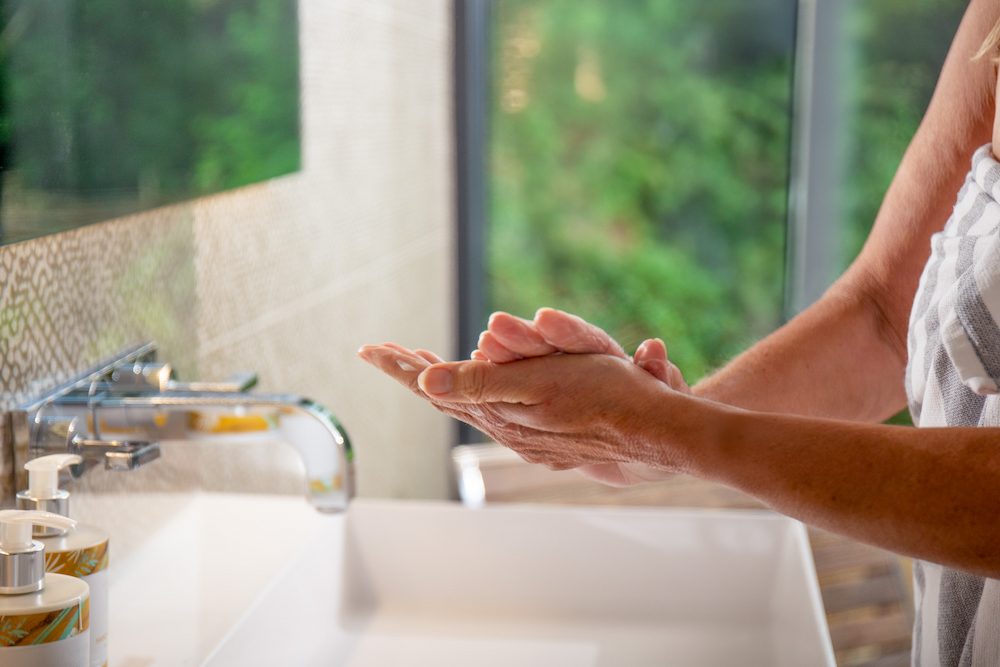 GENTLE REVIVAL
A pinch transforms
Experience the magic of nature with our organic body scrub. Pamper your skin, one exfoliation at a time.
100% ORGANIC BOTANICALS
Nature's Energy
Let each ingredient paint a picture of pure indulgence for your skin.


Golden Castor Sugar: Buffs away dullness, revealing your skin's glow
Calendula Flower: Nature's way to calm and renew the skin's balance
Lemongrass Leaf Oil: Zesty energy for both skin and senses
Cocoa Seed Butter: Luxurious moisture, a gift from cacao trees

Free from harsh chemicals, micro-plastics and synthetic fragrances, this scrub is heavenly for all skin types. Let your confidence bloom with an effective skincare ritual aligned with your values.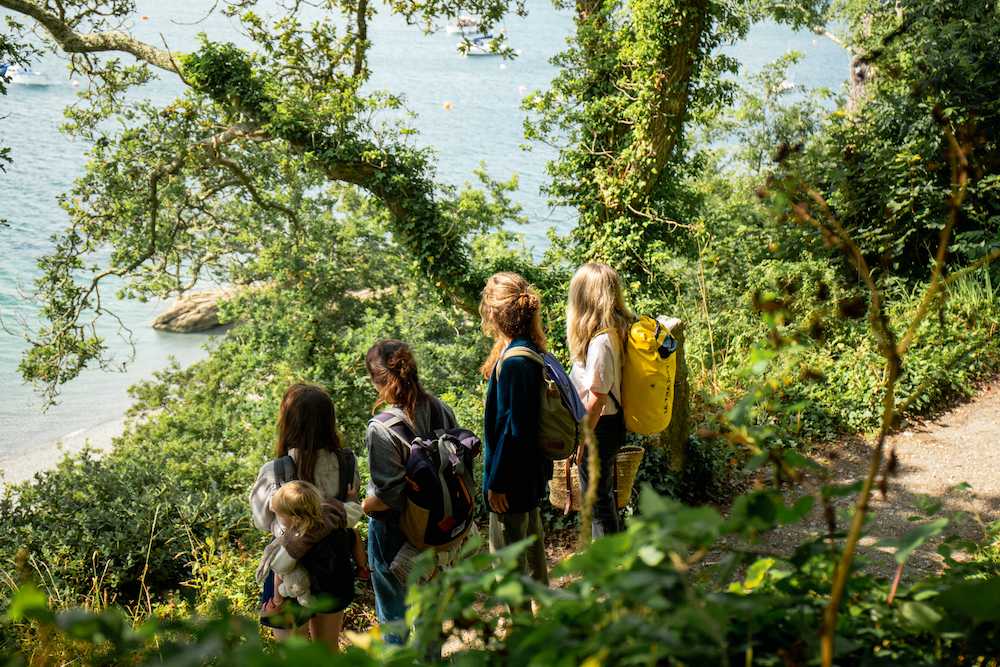 100% ORGANIC SKINCARE
Complete your routine
your top questions
Body scrubs and body washes are both effective ways to cleanse and exfoliate the skin. However, they have different benefits and may be better suited for different skin types.
Body scrubs like ours are typically made with a mixture of exfoliating particles, which can be synthetic or natural such as sugar, salt, or coffee grounds, and a carrier oil, such as coconut oil or shea butter. We use a blend of sugars and flower petals in organic vegetable oils like Coconut Oil, Olive Oil and Cocoa Seed Butter.
The exfoliating particles help to remove dead skin cells and reveal brighter, smoother skin. The carrier oil helps to moisturise the skin and prevent it from drying out.
Body scrubs can be a good choice for people with dry or dull skin. They can also be helpful for people with acne, as the exfoliating particles can help to remove dead skin cells that can clog pores.
Body washes are typically liquid cleansers that contain surfactants, which help to remove dirt, oil, and other impurities from the skin.
Body washes can be a good choice for people with all skin types, including sensitive skin, and can be combined with a skin scrub.
However, body washes are not as effective as body scrubs at exfoliating the skin.
Ultimately, the best way to decide whether to use a body scrub or body wash is to experiment and see what works best for your skin type.
Our organic body scrub is made with a blend of 100% organic and natural ingredients, including:
Golden castor sugar: This sugar is gentle enough for sensitive skin, but it is still effective at exfoliating away dead skin cells.

Dark brown sugar: This sugar is a bit more coarse than golden castor sugar, making it a very effective exfoliator.

Sunflower seed oil: This oil is rich in vitamins E and K, which help to nourish and hydrate the skin.

Olive oil: This oil is also rich in vitamins E and K, and contains antioxidants that help to protect the skin from damage.

Calendula flower: Calendula, also known as Marigold, is a well-known herb for its skin-soothing properties. It can help to reduce inflammation and irritation.

Lemongrass leaf oil: Lemongrass has a refreshing uplifting scent and that has antibacterial properties. It can help to keep the skin clean and free of bacteria.

Cocoa seed butter: Cocoa seed butter is rich in fatty acids, which help to moisturise and soften the skin.

Wheat germ oil: Wheat germ oil is a good source of vitamin E, which is an antioxidant that helps to protect the skin from damage.

Calendula flower extract: Calendula flower extract is rich in antioxidants and it can help to reduce inflammation and irritation.