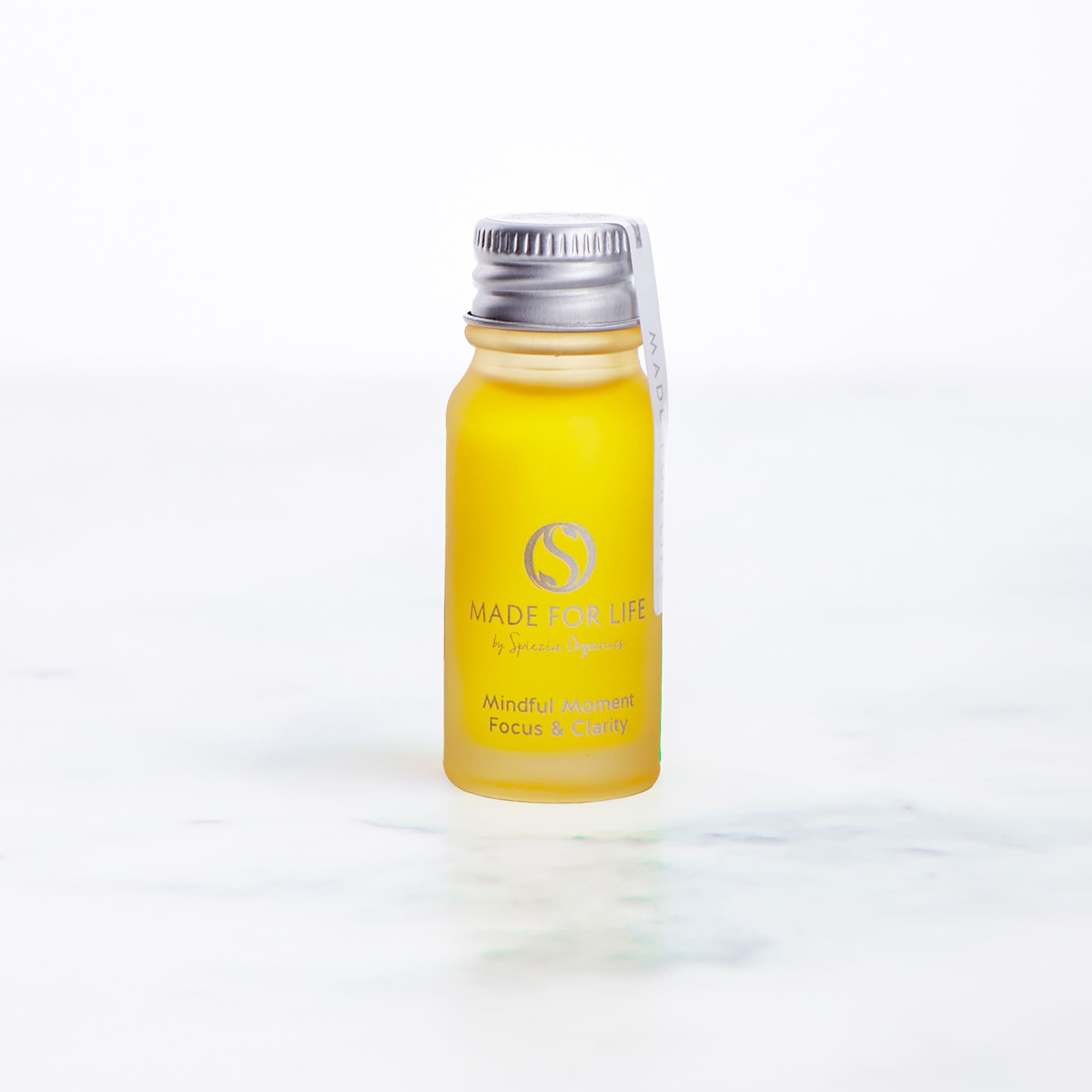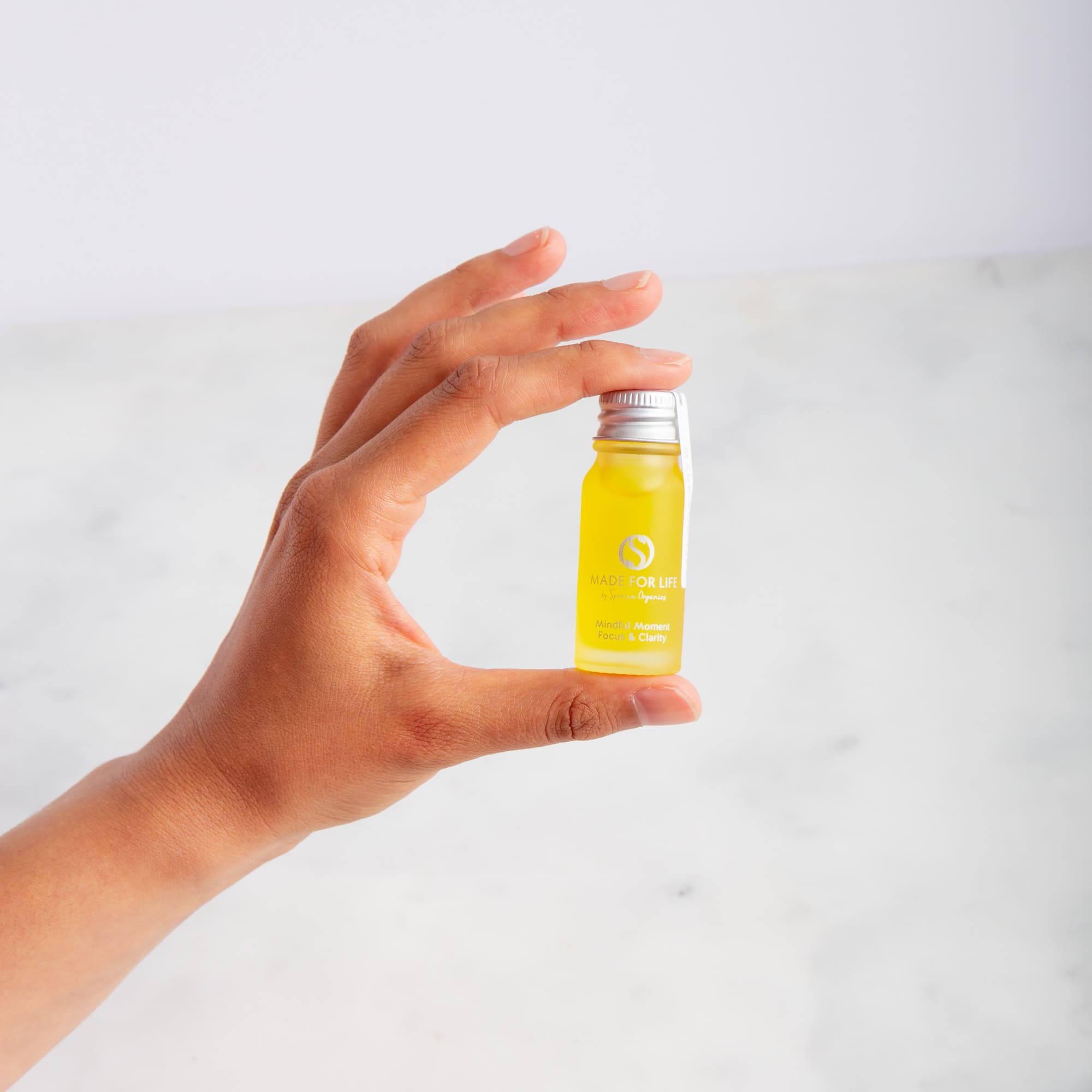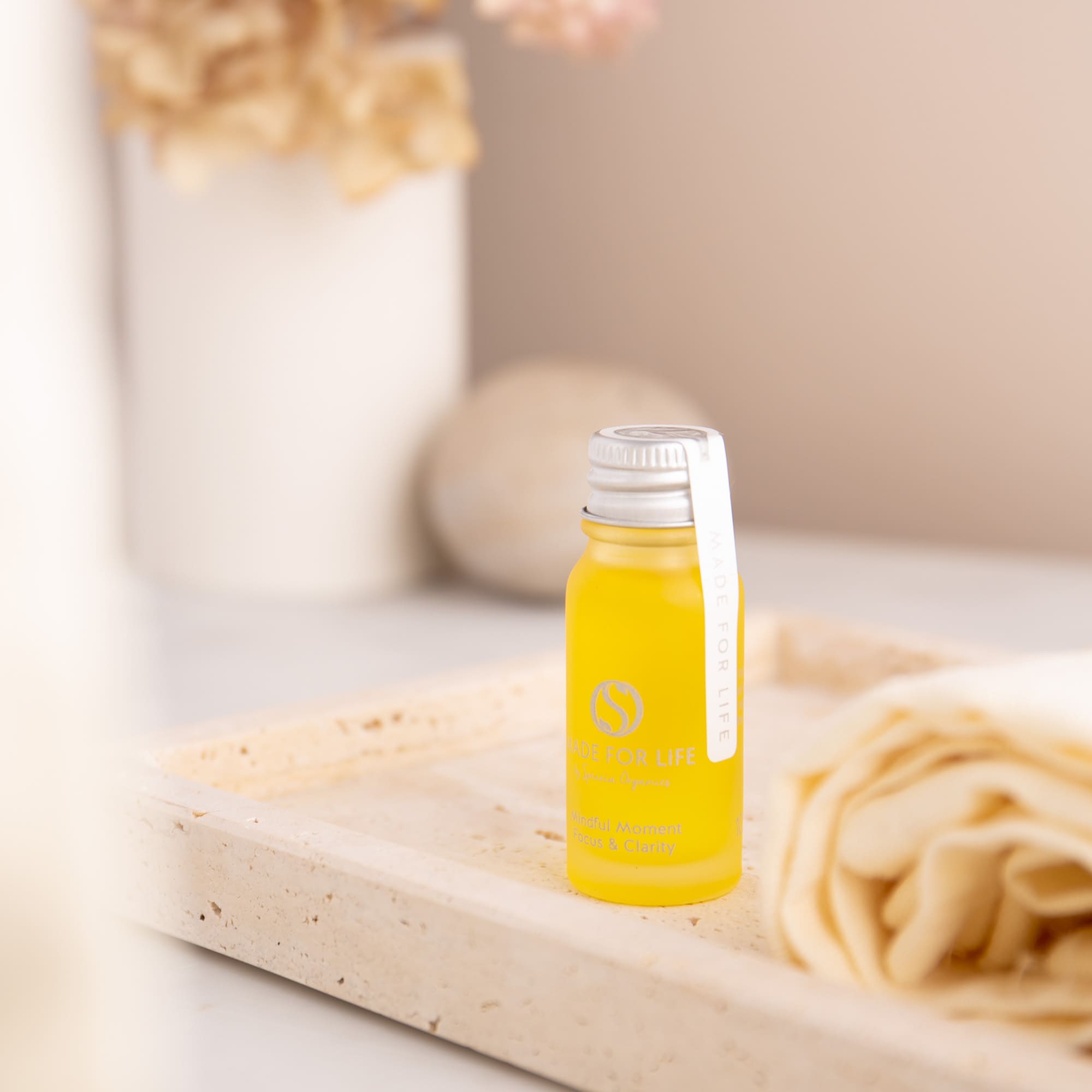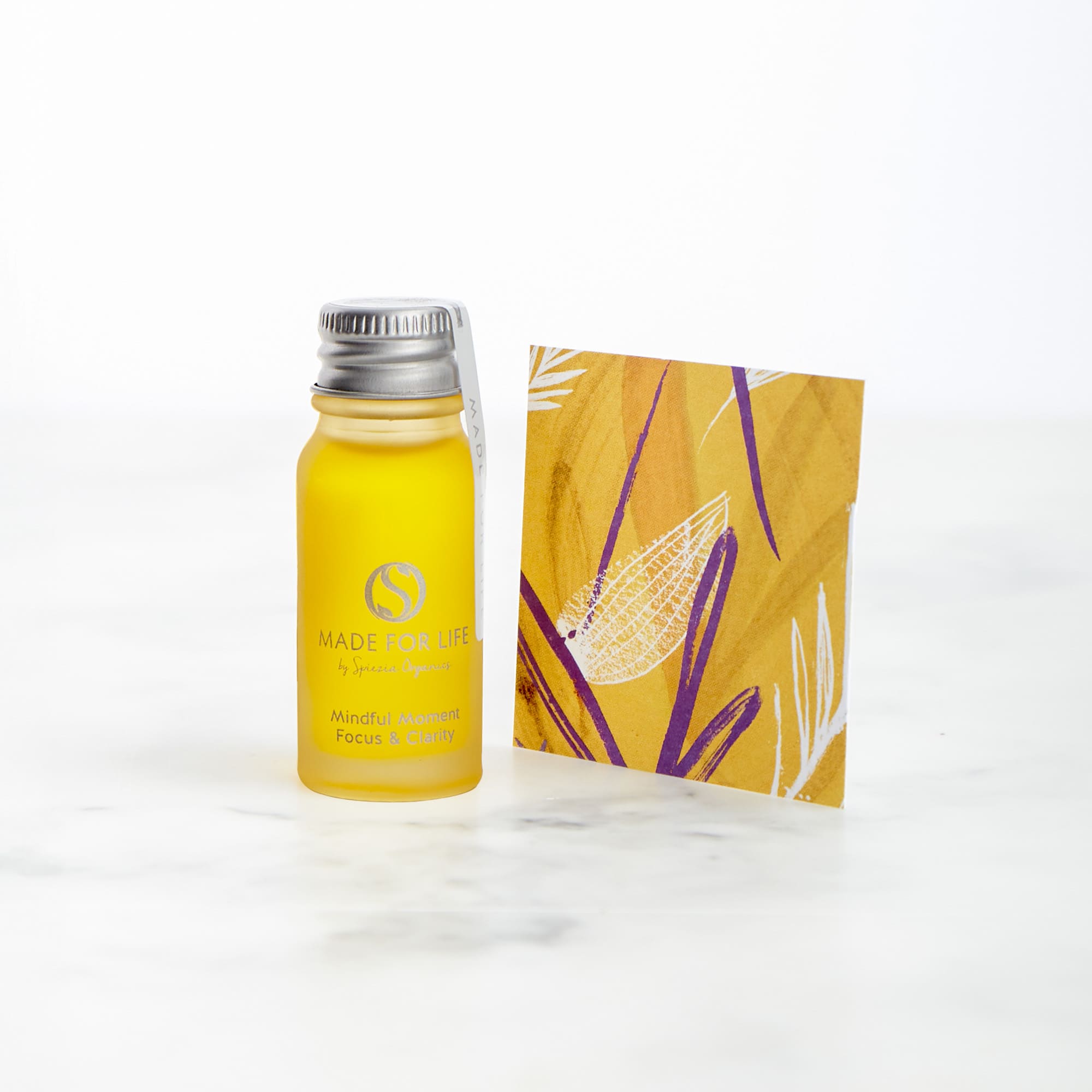 Mindful Moment - Focus and Clarity 10ml
Organic Massage & Body Oil
---
FREE Delivery when you spend over £50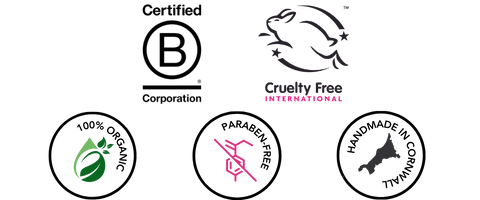 SKIN TYPE: All, Sensitive & Sensitised
Unlock focus and clarity with Mindful Moment's 100% organic Focus & Clarity oil!
This aromatic blend of vetiver, bergamot, and frankincense works to clear your head and lift your spirits, making it the perfect tool to find clarity and concentrate on the task at hand.
Used in spas for a tranquil massage experience, this oil is the key to unlocking a mental state of peace and mindfulness.
Reclaim clarity today and experience all the benefits of a mindful life!
FREE UK shipping on orders over £50

Standard Tracked Shipping (2-5 Business Days) £6.00

Express Tracked Shipping (1-3 Business Days) £7.50
We are proud that all of our deliveries use DPD via one of their all-electric delivery vehicles.
Returns
For opened products that are faulty, we are happy to provide replacement products to the value of the original product. If your product is damaged, faulty or incorrect please contact us within 48 hours of delivery.

Full RETURNS POLICY - Click here
Apply a generous amount of oil to your hands.
Gently massage the oil into the skin, paying special attention to your temples, forehead, and neck.
Take a few deep breaths and focus on your breath as the oil's stimulating scents work their magic.
Use as often as needed, especially when you need to clear your head and focus.
Makes a luxurious massage oil which moisturises as it relaxes.
Jojoba; Simmondsia chinensis oil
Wheatgerm: Triticum Vulgare Germ Oil
Vetiver; Vetivera zizanoides stapf leaf essential oil
Bergamot Peel; Citrus aurantium bergamia rutaceae oil
Cyprus; Cupressus sempervirens Pinaceae leaf oil
Grapefruit Peel; Citrus paradisi rutaceae oil
Frankincense; Boswellia Carterii Gum extract
*Linalool, Limonene
* Naturally occurring in 100% organic essential oils.
Suitable for vegans
Share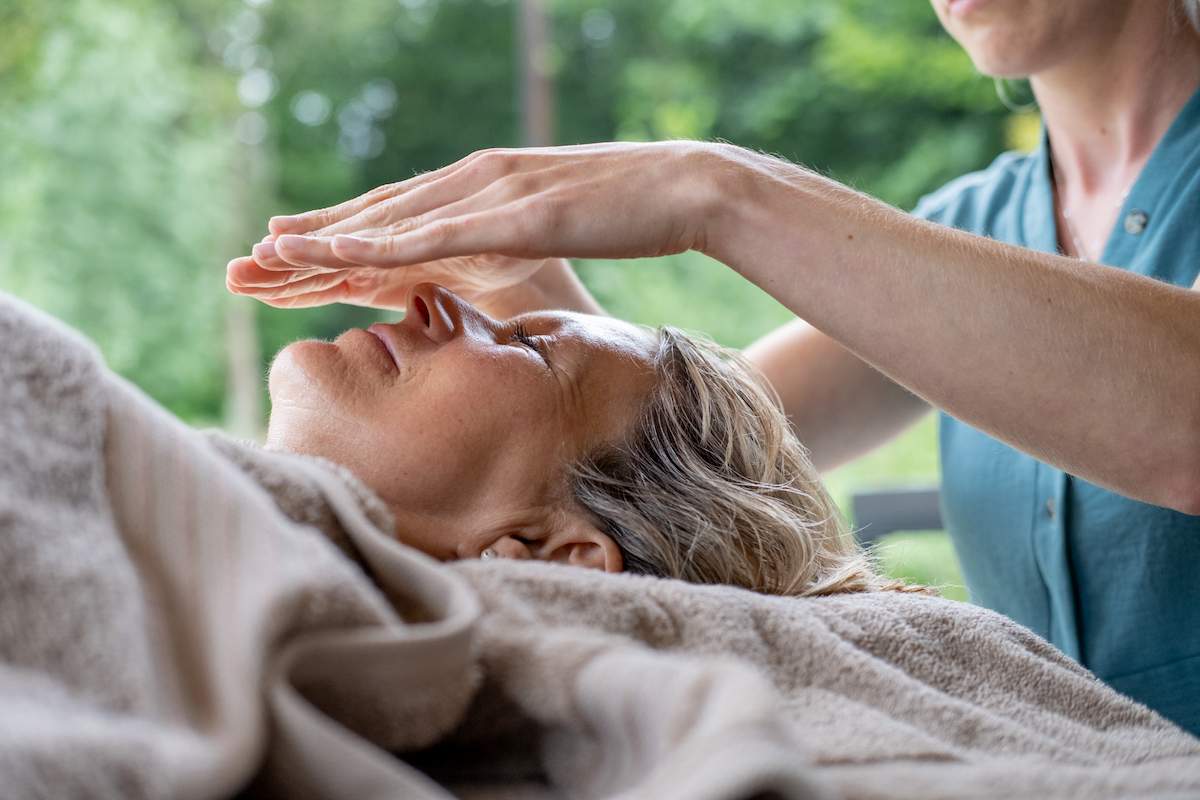 MOTHER EARTH'S EMBRACE
Discover inner serenity through Mindful Moments
Awaken your senses with nature's touch
ORGANIC WELLBEING
Reconnect with your inner peace
This luxurious oil is infused with the gifts of nature, to help you relax & rejuvenate.

The essential oils of lavender, lemongrass, and lavandin grosso work together to create a calming and soothing blend that will leave your skin feeling soft and radiant.
Jojoba: A natural oil that is similar to the sebum produced by the skin, jojoba helps to keep the skin hydrated and protected.
Vetiver: A grounding and calming oil, vetiver helps to reduce stress and anxiety.
Bergamot: A refreshing and uplifting oil, bergamot helps to improve mood and relieve tension.

A lullaby of oils for skin like silk.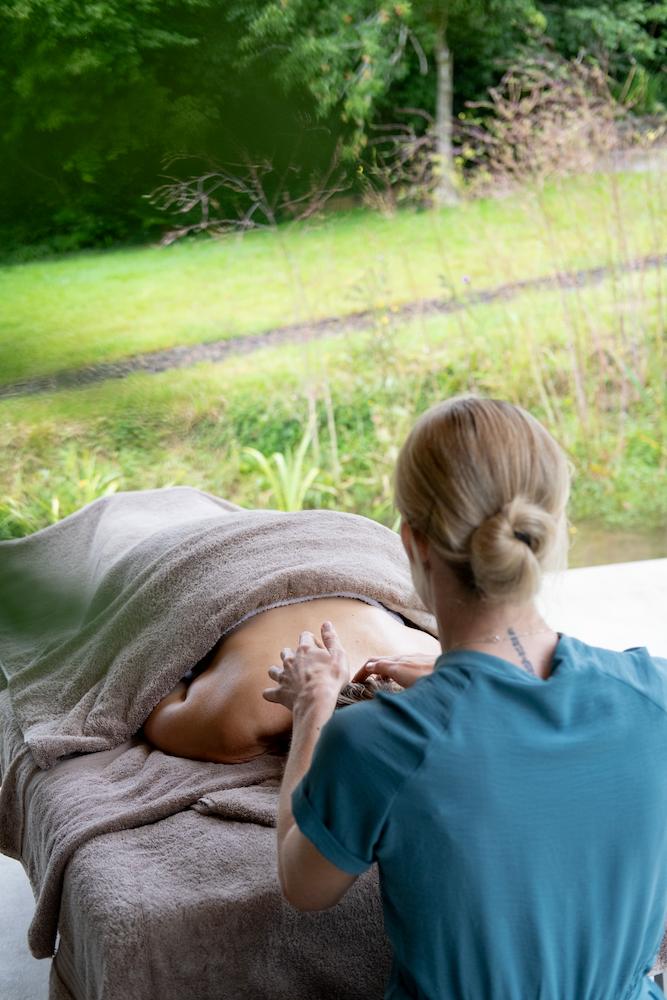 100% ORGANIC SKINCARE
Complete your routine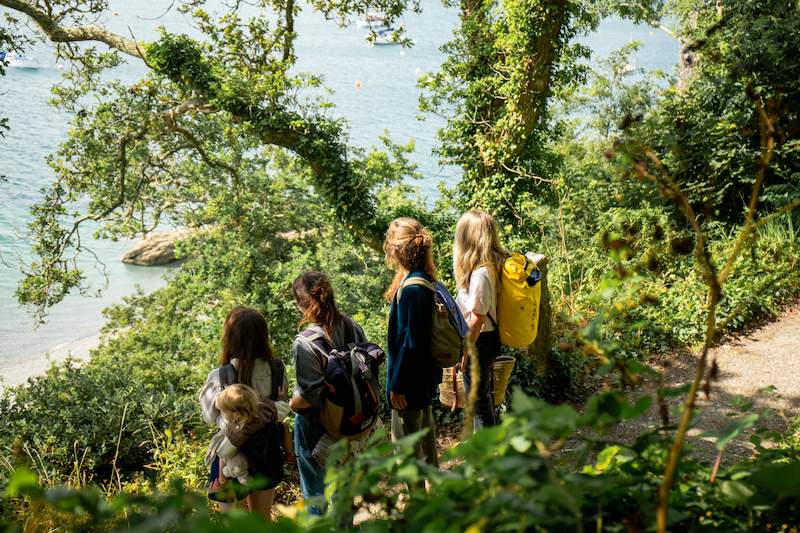 your top questions
Body oils and massage oils are very similar, however massage oils contain ingredients specifically chosen to provide a long-lasting luxurious glide, which is essential for a comfortable, therapeutic massage.
All of our oils are used in professional spas to allow therapists to provide perfect massages to their customers
There's no limit to how often you should massage.
Some people may benefit from therapeutic massage to reduce muscular tension or stress, others may only want a massage occasionally.
It is also lovely to enjoy mutual massage with someone special. Giving and receiving a massage is a great bonding experience as well as providing relaxing, therapeutic benefits.
The most important thing is to enjoy your massage!
Jojoba is a very special oil that closely matches the natural sebum of the skin. This close match makes it perfect for moisturising and regulating sebum production.
Too much sebum can lead to oily or blemish-prone skin. Jojoba balances the skin's need to produce sebum which can help to reduce breakouts and skin irritations like acne.